Handicaps appeared in the 1940s. When teams were clearly different in strength, it was reflected in odds – players were not in a hurry to risk for a paltry percentage, betting on the favorite, and hope for a lucky chance with the outsider => people bet little, and bookmakers lost profits. In someone's bright mind came the idea of handicaps or a virtual handicap, which would give a different result, changing the odds and odds.
What does a handicap mean? How to understand them?
Handicap or handicap is a bet on the result with some adjustment. It can be negative (on the favorite), and plus (on the outsider). Handicap can be on points, seconds, scored goals.
Handicap Betting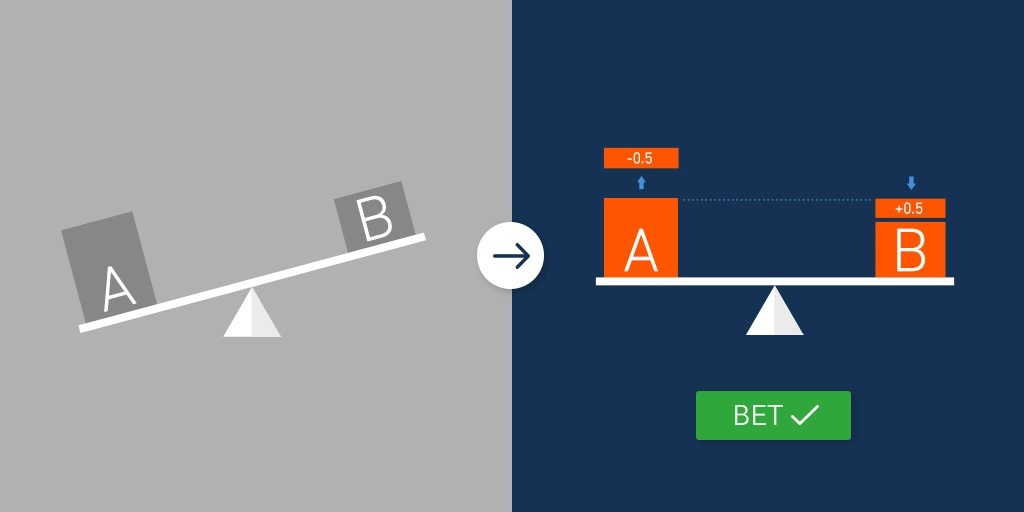 Handicap bet wins if a virtual handicap is added to the completed match. If your team after such a virtual mathematical operation was in the winnings – the bet passed. If it lost, it was bad luck. And if the score turned out to be a draw (only possible with an integer handicap – 0, 1, 2 …), then the bet is returned with odds 1, that is the money is not lost and can be used again.
Application of handicaps changes odds (relative to the usual 1-2 outcomes). This is the main trick of handicaps, which allows you to increase the income from the bet.
For example, the odds on your prediction are small. It happens when the teams strongly differ in strength, and the bookmaker office lowers kf. to a minimum (1.10-1.25 and below). The probability of winning this bet is very high, but the potential profit, usually discourages a reasonable player, and rightly so. To win only 15% with the risk of losing the bet in case of an unexpected defeat of the leader is too expensive a mistake and a big risk.
In the above situation, a little trickery is acceptable. It is clear that the bet will pass only if the selected team wins. Victory means that one team will score 1 goal more than the other. Accordingly, a bet with a handicap (-1) on this team at least will not lose. And what if suddenly the victory will be in 2 or more goals? The bet will pass, and the winnings will be not 15% of the bet, but at least 40%.
All types of bets with handicaps in detail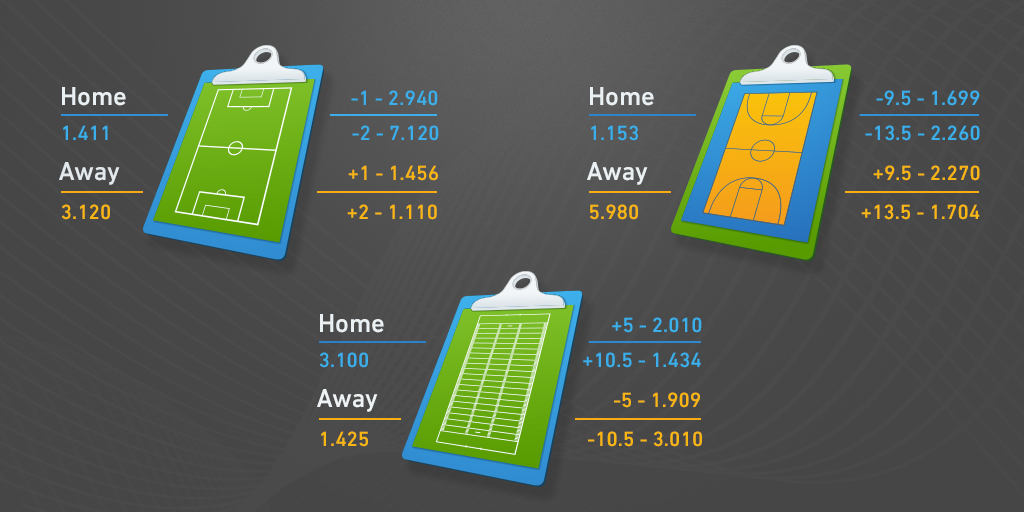 Handicap of the 1st team
Handicap 1 (-4) Handicap 1 (-3.5) Handicap 1 (-3) Handicap 1 (-2.5) Handicap 1 (-2) Handicap 1 (-1.5) Handicap 1 (-1) Handicap 1 (-0. 5) Over 1 (0) Over 1 (+0.5) Over 1 (+1) Over 1 (+1.5) Over 1 (+2) Over 1 (+2.5) Over 1 (+3) Over 1 (+3.5) Over 1 (+4)
2nd team handicap
Forex 2 (-4) Forex 2 (-3.5) Forex 2 (-3) Forex 2 (-2.5) Forex 2 (-2) Forex 2 (-1.5) Forex 2 (-1) Forex 2 (-0. 5) Fore 2 (0) Fore 2 (+0.5) Fore 2 (+1) Fore 2 (+1.5) Fore 2 (+2) Fore 2 (+2.5) Fore 2 (+3) Fore 2 (+3.5) Fore 2 (+4)
Asian handicaps
+2.75 +2.25 +1.75 +1.25 +0.75 +0.25 -0.25 -0.75 -1.25 -1.75 -2.25 -2.75
By Sport
Soccer
Hockey
Tennis
Basketball
What is a Handicap 0 in betting?
Handicap 0 is a win/loss with a team and a return in case of a draw.
This type of betting is used when there is a certainty that the team will win, but you still want to reinsure a little. A handicap or handicap "0" (i.e. a draw or win for the chosen team) bet will slightly increase the odds for a win, if compared to a double outcome bet (1X-2X), but if the teams draw, you will be refunded.
To take handicaps "-" or "+". How to understand?
What handicap is better minus on the favorite or plus on the outsider? All strictly according to the situation, before betting on the course of the match, carefully observe the teams and players. Try to understand their condition? Are they tired? Their mood? Motivation?
Do not always play a negative handicap of favorites or vice versa, always strengthen the position of outsiders. In betting on handicaps you need to be flexible. Let's say you know that a certain tennis player enters a tournament for a long time, suffers from laziness. It is quite logical to take against him at the beginning of the tournament with a handicap of almost any outsider. Or vice versa! Your opinion does not coincide with the bookmakers' line on any event, you think that it will be a smash and you are sure that the game will not last long. So, take the minus handicap of the favorite!
Betting strategy "handicap corridor (handicap)".
When there are 2 non-mirror handicaps, you can bet the so-called "corridor". Example: In one bookmaker's office for the keyf of 1.9 on one of the teams offered handicap -3.5 points, and the other site for the same keyf burning +5.5 on the opponents. In case, hitting the result in a narrow gap between handicaps, we win in one and second office!
In our case, it is the result with a difference of 5 points. For example, 96-91. Betting in the 1st office gives with a handicap of -3.5 points 92.5 points, i.e. >91. And the bet in the 2nd one gives 96.5 points to the visitors and the conditional score is 96-96.5. In the end, we win twice. The question is how expedient everything is and what is the chance of catching such happiness with profit at a distance, but such variant exists. In any case, it is better to catch up this way than to double the bet every time. According to the laws of probability theory, one day you are sure to earn on it.